£15.60 (£13.00 ex VAT) - FREE UK DELIVERY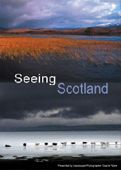 Presented by world-renowned landscape photographer Charlie Waite, Seeing Scotland is a ground-breaking 6 part series that explores and discusses the inspiration, dedication and human interest behind photography. Each journey takes a concentrated look into one of the many elements involved in making a photograph, from light, through to composition, wildlife and even ways of improving portraiture. Set amid some of Scotland's most stunning scenery, and enlivened by Charlie's encounters with local characters along the way, Seeing Scotland...
£30.00 (£25.00 ex VAT) - FREE UK DELIVERY
Your chance to acquire this image of a Lancaster Bomber which was used to accompany Charlie Waite's editorial piece on British wartime airfields for the book "Icons of England", published by the CPRE. The editorial: "My father, Rex Waite, never told me very much about what he did in the war. Perhaps he knew that I would not take it in. He was middle-aged when I was born and so was a rather distant figure...
£24.00 - FREE UK DELIVERY
Arc & Line is a photographic monograph of 65 black & white and colour fine art images made from around the world including the British Isles. Most of the images are new works and even includes two images made as recently as October of this year. Charlie has included a few of his favourite older images as he felt it important to show how his theme Arc & Line has been an influence over many years. The...