Landscape photographer Charlie Waite spent the first decade of his career working in theatre and television, so it's fitting that this exhibition of more than sixty images is displayed in the National Theatre's Lyttelton's exhibition space. The collection includes some of Waite's most important landscapes as well as new works.
Why did I choose the title?

People often suggest that photography gets in the way of real appreciation of what we are seeing I strenuously refute such an assertion and have always wanted to say that.

It involves an acute and joyful understanding of light and the way certain surfaces reflect and absorb light.

One sees the way in which a prevailing breeze may at last lull for a moment and return that beautiful phonomena of a reflection. Landscape photography does draw me closer and I become immersed.

One enters into a world that most of the time because of the nature of our lives we are running parallel to yet not in the midst of. I feel that we are insidiously drifting away from wonder and from beauty.
So Touch Beauty…..have a silent exchange.
Charlie Waite
Location Details
National Theatre, South Bank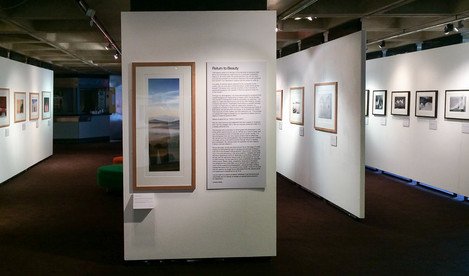 Website
Address
Lyttelton Gallery
National Theatre
Upper Ground
South Bank
London
SE1 9PX