I am sharing my personal response to those moments of beauty that I have discovered as I travelled around the world – be they man-made or natural. The wonderful thing about photography is that it allows that moment of perceived beauty to endure, and to be shared.
People often suggest that photography gets in the way of real appreciation of what we are seeing I strenuously refute such an assertion.
It involves an acute and joyful understanding of light and the way certain surfaces reflect and absorb light.
One sees the way in which a prevailing breeze may at last lull for a moment and return that beautiful phonomena of a reflection.
Landscape photography does draw me closer and I become immersed.
Forthcoming Exhibition
4th March - 3rd April 2016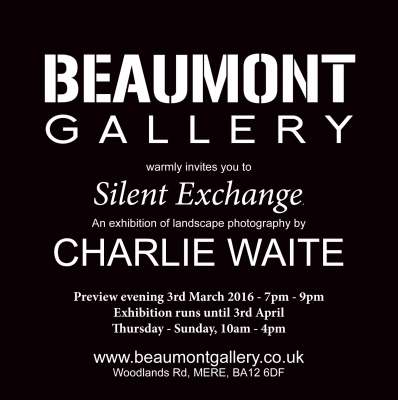 The newly opened Beaumont Gallery at Woodlands Road, Mere, hosts Silent Exchange, an exhibition of award-winning photography by Waite from Thursday 3rd March until Sunday 3rd April. Bringing together Waite's most important landscapes to date as well as new works, Silent Exchange showcases Waite's personal response to beauty in an exhibition of images which span a lifetime at the forefront of landscape photography. The exhibition will feature images from many different countries and include photographs of the beautiful Wiltshire and Dorset counties. Landscape photography is a passion for Waite. He has described the making of his images...